Summer Series Results from Mt Hobson
December 13, 2001
Results from courses: Park One Two Three Four
Hello from the deep south. We hear you had a good evening – well the weather in the south was just what we wanted you to have – a beautiful evening – ideal for orienteering. We hope you took a little time to enjoy the view from the top of the hill. It is a wonderful spot so we hope some of you were able to enjoy it. While you were running around Mt Hobson we were navigating our way from Christchurch to Dunedin with the aid of wheels! With our conference over we are now going to spend a couple of days with Alistair's father in Dunedin.
Our very sincere apologies to those on courses 1 and 2 who found the maps sold out at the registration. We arranged the printing last week and obviously misjudged the enthusiasm of you all. Please accept our apologies –we'll try to avoid it happening again.
Thank you to Mervyn Paitry who set the event tonight and to all the other helpers who stood in for us in our absence. We appreciate you giving up your time.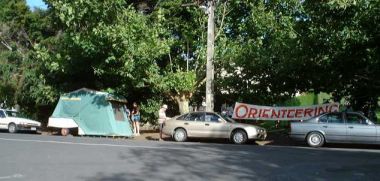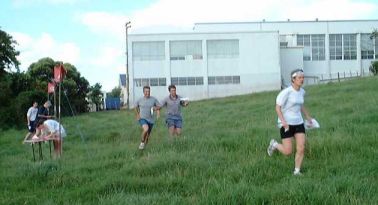 This was the last event before Christmas. Our next event will be on January 22nd on the Auckland Domain starting at the band rotunda. We look forward to seeing you back refreshed and keen to get back into orienteering, accompanied by the friends that you have managed to talk into giving it a go.
While the Summer Series only orienteers are having a break from orienteering the more fanatical amongst us will be heading down to the Wanganui region in mid January to compete in the Australia New Zealand challenge in sanddune pine forest. Most of the club orienteers from the Auckland region will be there but our special best wishes go to those who are in the New Zealand team (see the NZOF web page for a complete list www.nzorienteering.com). We look forward to reporting a NZ victory in our next email!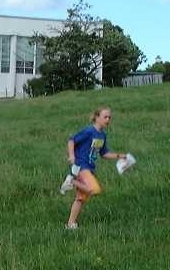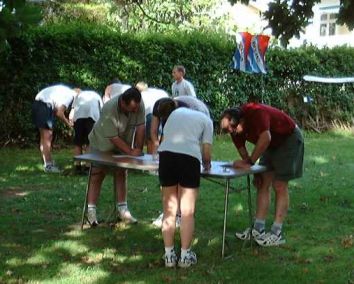 Have a great Christmas and our very best wishes for the New Year.


Park Race 2.3 kms

   1 Darren Ashmore            0:11:13
   2 Mark Lawson               0:11:36
   3 Stuart Lynch              0:12:59
   4 David Stewart             0:13:13
   5 Dougal Harding            0:13:17
   6 Fraser Mills              0:13:43
   7 Tim Renton                0:15:16
   8 Debbie Eves               0:17:28

Up to the Top

   1 Dave Crofts               0:56:16
   2 Jeff Greenwood            0:56:55
   3 R Smith                   1:03:52
   4 Susann Banmgartner        1:05:38
   5 Rudy Hlawatsch            1:06:35
   6 Roel Michels              1:11:16
   7 Ian Sydenham              1:13:48
   8 Natalie Rouse             1:14:23
   9 Melissa Edwards           1:14:30
  10 Malcolm Gawn              1:28:12
  11 Craig White               1:32:30
  12 Mike Beveridge            DNF

Up to the Top

   1 Roger Bengtsson           0:38:09
   2 G Mead                    0:38:14
   3 Simon Jager               0:42:36
   4 Brian Johnston            0:42:46
   5 Phillipa Poole            0:43:23
   6 Allen Browne              0:43:30
   7 Norm Jager                0:44:44
   8 John Robinson             0:45:00
   9 Richard Kestle            0:45:42
  10 Richard Christie          0:46:48
  11 Monika Faessler           0:47:01
  12 M@ Crozier                0:48:25
  13 John and Suzanne          0:50:35
  14 Sarah Painter             0:50:54
  15 Craig Pearce              0:52:45
  16 Steve Fotherby            0:53:35
  17 Peter Godfrey             0:53:42
  18 Gary Farquhar             0:54:24
  19 Nicola Kinzett            0:54:40
  20 Russell Howard            0:57:34
  21 Lyn Stanton               0:59:27
  22 Mark Kelleher             1:00:00
  23 Alison Comer              1:01:54
  24 Keith Adams               1:03:00
  25 Phillip Nannestad         1:04:02
  26 Sarah & Paul Gilkison     1:05:45
  27 Melvina Wise              1:07:37
  28 Bert Chapman              1:08:42
  29 Kathy Farquhar            1:11:04
  30 Ally G                    1:12:07
  31 Carol Diamond             1:13:50
  32 Jane Adams                1:15:00
  33 Nic Oram                  1:15:11
  34 Grahame Brown             1:34:05
  35 S. Manning                1:55:46

Up to the Top

   1 Pete Evans & Tine Haas    0:20:10
   2 Kate Mackay               0:20:39
   3 Daniel Martin             0:21:16
   4 Alan Verry                0:22:36
   5 Guston Nordstrom          0:26:26
   6 Bruce without Moz         0:26:40
   7 Pickles                   0:26:45
   8 Michael Jager             0:27:34
   9 Rosie Hewlett             0:27:39
  10 Anon                      0:28:50
  11 Jennifer                  0:29:19
  12 Des Matthews              0:30:00
  13 Dave Greenwood            0:31:00
  14 Pete & Darren             0:31:35
  15 Marie Fitch               0:33:10
  16 Mark Chilvers             0:33:30
  17 Melanie Michels           0:33:43
  18 Paul & Michelle Kemp      0:34:07
  19 Karyn & Trev              0:35:01
  20 Don Tate                  0:38:25
  21 Catherine Price           0:40:00
  22 Goran Nordstrom           0:40:27
  23 St D Jismca               0:40:30
  24 Nicole Moorehouse         0:40:52
  25 Adele Forster             0:42:03
  26 Smirnova Alina            0:42:07
  27 Rod Kestle                0:45:00
  28 Gareth Jenkin             0:48:27
  29 Penny Kestle              0:50:58
  30 Chris Taylor              0:51:01
  31 Jacqui Harsant            0:51:01
  32 Marion Naish              0:51:01
  33 Jenny Andrew              0:51:58
  34 Smirnova Kate             0:52:04
  35 Miriam                    0:53:00
  36 Smirnova Iryna            0:53:07
  37 Andrew Fitch              0:54:28
  38 Sarah Alex Thomas         1:08:00
  39 TJ Williams               1:24:00

Up to the Top

   1 Ray Fern                  0:23:05
   2 Joanna Fiten              0:28:00
   3 Q Ball                    0:30:19
   4 Sandy McGivern            0:35:17
   5 Gene Beveridge            0:39:52
   6 Maria Nordstrom           0:41:00
   7 Gunnel Nordstrom          0:42:00
   8 Margaret Sydenham         0:44:00
   9 Harriet                   0:50:00
  10 Lydia Shaw                0:50:15
  11 Sophie Renton             0:50:15
  12 B and James Sydenham      no time

Up to the Top