Summer Series Results from Carrington
January 20, 2004
Results from courses: One Two Memory Three Four
How did you enjoy your first Summer Series orienteering for 2004? It was great wasn't it. The courses set by Catherine and controlled by Dave were really good, a challenge but fair. The memory course was wonderful for the orienteers who really got a challenge. Some of us found that our memory seemed a little short lived and also a bit too generalised. Oh for a map to glance at half way along the leg – just for a moment!! Catherine, who has been disappointed that there haven't been memory courses for quite a while now, was delighted with the enthusiasm shown by many orienteers who were keen to have a go and very much enjoyed it.
An especially big thank you to Catherine and Dave for their efforts in setting up this event. They are getting married this coming Saturday and they organised an O event (incl a memory course – there is quite a lot of extra preparation for that event) just days out from their big day.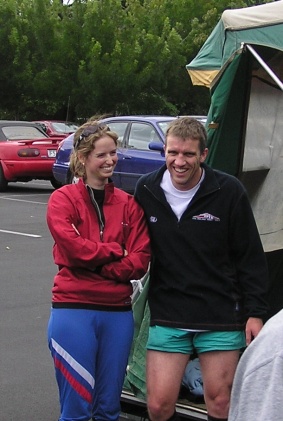 Welcome to orienteering to the newcomers. There were a number of new people along tonight and it was great to have you with us.
Next week we have a new innovation to summer series orienteering – electronic punching and timing. All orienteers who have e-cards – please bring them along. Those of you who don't own cards – don't worry – we have cards available for you. For this event there will be no hire charge (but there is a $50 charge if you loose your card so ensure you attach it properly). This is great fun, especially if a few of your friends do the same course – you can compare splits!! Full instructions will be given to any one who has any uncertainty – but it is very easy – easier than using the hole punches. This will be your only chance to try out this system during the summer series so do come and give it a go if you have yet to experience it. The Auckland club has e cards available for sale for $50 if you are planning on attending forest events this year.
Also, don't forget the night O events in February – keep those evenings free.
Next week we are at Self's Farm which is accessed off Tidal Rd, Papatoetoe. Map on the Club website to help you find your way there. So next Tuesday (remember this will not seem like a Tuesday as it follows the holiday) (27th) with starts, as usual, from 5:30pm. This is a working farm so we're sorry but no dogs allowed. We believe that wet feet are on the cards!! – bring footwear you won't be upset to get a little damp – Malcolm is the setter!!!! No toilets close by the event centre.
The Green Coast New Zealand Rogaine Championships is to be held on 6/7 March – organised by the Auckland Orienteering Club – and we've had a number of enquiries about the entry form. This will be available next week at the summer series and we'll have a webpage address for you by then too.
The Auckland O Club webpages have now become advertisement and popup free. A much more pleasant place to go now. The results of all the Summer Series events are placed there at the same time as they are emailed. You might like to look there for other information too.

Course 1 8.5 km

   1 Stu Barr                  0:49:31                    
   2 Mark Lawson               0:55:51                    
   3 Phil White                0:57:12                    
   4 Shaun Collins             0:57:18                    
   5 Guy Cory-Wright           1:03:11                    
   6 Gus Grey                  1:04:14                    
   7 Tim Renton                1:06:00                    
   8 Rudi Hlawatsch            1:07:52                    
   9 B Peat                    1:14:15                    
  10 Martin Peat               1:14:30                    
  11 Brian Johnston            1:17:45                    
  12 Simon Thorpe              1:19:47                    
  13 Tony Hawkes               1:22:24                    
  14 Frances Peat              1:23:00                    
  15 Tom Goodman               1:28:00                    
  16 Debbie Bevins             1:43:00                    


   1 Pete Swanson              0:35:37                    
   2 Allan Janes               0:47:04                    
   3 Paul Frith                0:48:00                    
   4 Shane Blackett            0:49:20                    
   5 Jim Davidson              0:49:29                    
   6 Mike Beveridge            0:49:50                    
   7 Nick Harris               0:50:00                    
   8 Graham Frith              0:52:00                    
   9 Kane Alward               0:52:12                    
  10 Penny Brothers            0:54:15                    
  11 M Jones                   0:54:40                    
  12 Mark Frater               0:55:45                    
  13 M Edwards & M Underwood   0:57:49                    
  14 R Ambler                  0:58:54                    
  15 J Ash & K McGrogan        1:00:00                    
  16 Leo Cheng                 1:02:40                    
  17 Judith Burnie             1:03:47                    
  18 Matthew Jeans             1:05:00                    
  19 Robert & Megan            1:06:35                    
  20 Jill Dalton               1:06:45                    
  21 Claude                    1:06:55                    
  22 Miles Paver               1:08:01                    
  23 John & Suzanne & Tess     1:10:05                    
  24 Peter Godfrey             1:17:28                    
  25 Graeme Brown              1:20:00                    
  26 Ann Jeans                 1:21:00                    
  27 Alister Hood              1:21:00                    
  28 Jo Goudie                 1:22:00                    
  29 Sandra Toppin             1:38:00                    
  30 Thelma H                  1:55:00                    
  31 Paula & Asta              1:58:43                    
  32 Yvette                    DNF                        


   1 Antoinette Maulder        0:25:45                    
   2 Di Michels                0:32:00                    
   3 Anthony Browne            0:34:00                    
   4 Nick Monteith             0:35:25                    
   5 H Geary                   0:36:40                    
   6 Jennifer Trinick          0:37:33                    
   7 Peter Jeffries            0:38:11                    
   8 Chris Holdaway            0:38:22                    
   9 Matthew Battley  (9      
     years)                    0:39:26                 
  10 Jane Adams                0:40:28                    
  11 Russell Howard            0:41:17                    
  12 Gene Beveridge            0:41:26                    
  13 Shannon Colligan          0:41:28                    
  14 Keith Adams               0:43:25                    
  15 Mark Paton & Shelley      0:46:00                    
  16 Vic Fitzpatrick           0:46:00                    
  17 Christina Renhart         0:48:00                    
  18 Heather Davidson          0:48:33                    
  19 Doug O'Shea               0:56:02                    
  20 V Leigh                   0:57:00                    
  21 R Bennett                 0:57:00                    
  22 Andrew Bright             0:57:00                    
  23 Madeleine & Zara Collins  1:01:10                    
  24 Marion Gray & Wati-Anne  
     Petricevich               1:02:00                 
  25 Raewyn Hooper             1:02:11                    
  26 Bob Lindop                1:05:00                    
  27 JCE                       1:05:33                    
  28 Bruce Keegan              1:07:00                    
  29 Liz & Ross                1:11:05                    
  30 Weir Family               1:13:00                    
  31 J Andrew                  1:13:00                    
  32 Gay Ambler                1:16:00                    
  33 Liz Walker                1:25:00                    
  34 Team Furry                1:53:00                    
  35 David & Ruby              DNF                        
  36 Rylay                     No Time                    
  37 Nathan                    No Time                    
  38 Kalen                     No Time                    


   1 Sherden                   0:13:00                    
   2 Tyler Casey               0:13:52                    
   3 Shaun Taylor              0:16:00                    
   4 Thomas Tremewan           0:16:00                    
   5 Matthew Ouden             0:16:30                    
   6 Georgia Cattley           0:17:58                    
   7 Nathaniel James Hood      0:18:24                    
   8 Eileen Hood               0:18:31                    
   9 Bronwyn & Emma Hamilton   0:19:07                    
  10 Jeremy & Jordan           0:20:00                    
  11 Geoff Pollard             0:21:00                    
  12 Andrew Battley            0:22:41                    
  13 Rachel Monck              0:24:00                    
  14 Kaleb                     0:28:10                    
  15 Hamish Ross               0:31:00                    
  16 Thomas Stolberger         0:33:40                    
  17 Heidi Stolberger          0:33:40                    
  18 Rebecca Cope & Lucy      
     Washer                    0:34:00                 
  19 Paul Mohi                 0:35:00                    
  20 Ben Mains                 0:47:00                    


   1 Martin Freeman            0:42:30                    
   2 Alistair Stewart  (Unoff) 0:43:44                    
   3 Andrew Bell               0:46:20                    
   4 Pete Swanson              0:47:22                    
   5 Mark Roberts              0:47:47                    
   6 Malcolm Gawn              0:48:45                    
   7 Natalie Rouse             0:51:00                    
   8 Craig Pearce              0:55:13                    
   9 Jane Simmonds             1:03:11                    
  10 Nicola Kinzett            1:04:00                    
  11 Nick Oram                 1:10:35                    
  12 Joanna Stewart            1:14:53                    
  13 Irene Smirnova            1:16:58                    
  14 Alina Smirnova            1:16:59                    
  15 Elke Haag                 DNF