Summer Series Results from One Tree Hill
November 28, 2001
Results from courses: One Two Three Four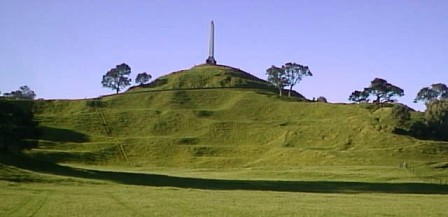 Was this taken tonight? No prizes for the right answer!
Great to see you all along tonight. There were lots on new faces – welcome to orienteering. We hope you enjoyed yourselves and will be back for plenty of more fun.
Thank you very much to Jeff Greenwood and Alison Comer for the course setting for tonight. You did a great job and lots of people told us how much they enjoyed their course.
Very sorry to have had an injury tonight, with a newcomer slipping on a slope. We wish him a speedy recovery. Sorry to the late competitors who found their last controls had been brought in. That portion of Cornwall Park is locked at 8pm so we needed to pack up a bit faster than normal. Should any of you find one of your party not returned towards the end of the evening do come and tell us. The control collectors are all experienced orienteers and will rapidly locate anyone who is lost, but occasionally we are unaware that someone is still out there. We would hate to leave while someone was still on the map.
Next week we are at Self's Farm – a cattle farm off Tidal Road, Papatoetoe (a sketch map on the website for those that need more information). This area is another volcano – hardly any hill left, just a crater half filled with a lake. Being volcanic there is rock everywhere and so you push-chair orienteers will have to ask your energy source to get a back-pack to ferry you around. However it is well worth the visit, with lovely views at sunset and abounding bird life. If you are plane spotters this is an ideal map as most planes to and from the airport pass very close by. (Sorry no toilets anywhere near this map). PLEASE remember this event is on THURSDAY the 6th of December. A change of day.
Very best wishes to those travelling to the SI this weekend for the 18 hour rogaine. This is being held in the Marlborough region, starts at 4pm on Saturday and goes right through the night. You might meet Steve Gurney and his fellow competitors in the very long adventure race currently in the north of the South Island. We could see a few tired and stiff looking course one runners next week!!
Auckland club members, don't forget the club social this Sunday night, at the Auckland Bowling Club, on the edge of the Domain. 5.30 start with a brief AGM but predominantly a BBQ, game of bowls or pool and a chance for new and old club members to get to know one another better. The club provides the meat – please bring a salad or dessert – look forward to seeing you all there.
Found – a compass – will be at campermatic


Course 1 6.8 kms

   1 Mark Lawson               0:36:14                    
   2 Brent Edwards             0:38:52                    
   3 Fraser Mills              0:41:03                    
   4 Neil Kerrison             0:42:14                    
   5 Adrian Moser              0:43:06                    
   6 David Stewart             0:43:16                    
   7 Guy Cory-Wright           0:43:31                    
   8 Stuart Lynch              0:44:23                    
   9 Dave Crofts               0:45:23                    
  10 Dougal Harding            0:45:47                    
  11 Paul Gilkison             0:48:28                    
  12 Adrian Skinner            0:49:02                    
  13 Dave Middleton            0:50:09                    
  14 Tim Renton                0:50:36                    
  15 Natalie Rouse             0:57:04                    
  16 Roel Michels              0:57:18                    
  17 Rob Ambler                1:00:07                    
  18 Nic Oram                  1:00:54                    
  19 Mike Beveridge            1:01:38                    
  20 Melissa Edwards           1:01:41                    
  21 Craig Pearce              1:03:02                    
  22 Norm Yager                1:05:54                    
  23 Ben Balmforth             1:06:45                    
  24 Tony Cooper               1:11:02                    

Up to the Top

   1 Mark Hodgson              0:39:58                    
   2 Ian Sydenham              0:42:53                    
   3 David & Phil Creagh       0:44:15                    
   4 Pete Swanson              0:45:30                    
   5 Monika Faessler           0:45:49                    
   6 Allen Browne              0:45:50                    
   7 Mark Roberts              0:46:37                    
   8 Brian Johnston            0:47:40                    
   9 Di Michels                0:49:20                    
  10 John and Suzanne          0:49:45                    
  11 Marijke Currie            0:50:00                    
  12 Richard Kestle            0:50:13                    
  13 Brigitte Schlatter        0:50:42                    
  14 Jamie Munro               0:50:54                    
  15 Kate Mackay               0:51:12                    
  16 V Smirnov                 0:51:28                    
  17 Chris & Frank             0:53:00                    
  18 Ineke Currie              0:53:00                    
  19 Shane McGnoid             0:53:14                    
  20 Lyn Stanton               0:54:45                    
  21 Penny Brothers            0:55:14                    
  22 Sarah Painter             0:55:59                    
  23 Isaac Holliss             0:56:00                    
  24 Peter Godfrey             0:56:26                    
  25 Mike Howe                 0:58:30                    
  26 Jane Adams                1:00:45                    
  27 Nicola Kinzett            1:01:15                    
  28 Clive Bolt                1:01:22                    
  29 Keith Adams               1:02:30                    
  30 Mark Kelleher             1:03:00                    
  31 G Howe                    1:03:00                    
  32 Russell Howard            1:03:16                    
  33 Bert Chapman              1:03:49                    
  34 Paul & Michelle Kemp      1:05:12                    
  35 Ben Holliss               1:07:00                    
  36 Matthew Marvin            1:07:00                    
  37 Brian Holliss             1:07:00                    
  38 P & R Wakeman             1:08:05                    
  39 Quentin Ball              1:09:00                    
  40 Mary Wadsworth            1:17:08                    
  41 Melvina Wise              1:17:20                    
  42 Tash & Liza               1:22:42                    
  43 M Little                  1:23:00                    
  44 Bhupinder                 1:26:25                    
  45 Helen Wadsworth           1:29:00                    
  46 Emma Klegg                finished                   

Up to the Top

   1 Anon                      0:21:50                    
   2 Alan Verry                0:21:59                    
   3 Anon                      0:25:38                    
   4 Michael Jager             0:26:16                    
   5 Allan Janes               0:28:59                    
   6 Bruce & Moz               0:29:44                    
   7 Meredith Rouse            0:30:24                    
   8 Andy B                    0:30:35                    
   9 Cameron Ross              0:30:35                    
  10 Blair Spaldin             0:30:35                    
  11 Paul Rowe                 0:30:41                    
  12 Rosie Hewlett             0:31:37                    
  13 Anon                      0:31:45                    
  14 Patrick Chin              0:32:31                    
  15 Don Tate                  0:33:09                    
  16 Hamilton Family           0:34:00                    
  17 Andrew Bright             0:34:00                    
  18 Gareth Jenkin             0:35:00                    
  19 Belinda Sydenham          0:36:51                    
  20 Rae Fern                  0:37:08                    
  21 Ralph King                0:37:18                    
  22 Tom Clendon               0:37:22                    
  23 Karyn, Trev & Jude        0:37:49                    
  24 Pickles                   0:38:01                    
  25 R & L Hawkes              0:38:10                    
  26 Andrew & Graham           0:39:00                    
  27 Smirnova Kate             0:39:00                    
  28 Smirnova Iryna            0:39:13                    
  29 Mark Chilvers             0:39:35                    
  30 Ali & Pete                0:40:00                    
  31 Sandy McGivern            0:40:24                    
  32 Doug & Sue O'Shea         0:41:01                    
  33 Heather Davidson          0:42:22                    
  34 John & Claire & Erik      0:44:38                    
  35 Smirnova Alina            0:46:30                    
  36 Alison & Jay Batty        0:47:55                    
  37 Joanna & Helen            0:48:42                    
  38 Sarah-Kate & Jan          0:51:00                    
  39 Harry & Tom               0:53:30                    
  40 S Erenstram               0:54:00                    
  41 Marion Naish              0:56:19                    
  42 Chris & Jackie            0:56:19                    
  43 Tom Williams              1:06:00                    
  44 Nikita Mahe               1:07:00                    
  45 Jennifer Trinick   most of course                   

Up to the Top

   1 Karyn, Trev & Jude        0:25:51                    
   2 Katizlla Oco              0:35:09                    
   3 Jessica O'Connor          0:35:11                    
   4 Bron Andrews              0:35:11                    
   5 Margaret Sydenham         0:35:33                    
   6 James Sydenham            0:35:53                    
   7 Sophie Renton             0:36:01                    
   8 Lydia Shaw                0:36:01                    
   9 Erica Dutton              0:38:00                    
  10 Anna Faulls               0:38:53                    
  11 Jonathan Dutton           0:40:00                    
  12 Thomas                    0:50:10                    
  13 Robyn & Georgia Hawkes    1:14:58                    

Up to the Top