Summer Series Results from Self's Farm
December 6, 2001
Results from courses: Park One Two Three Four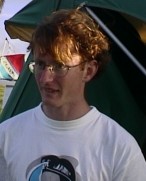 Your setter for tonight, Dougal Harding. Thank you Dougal for your efforts.
It was great to have a lovely evening, all be it rather windy, for a map that has great views. There are a few photos of the farm on the website for you to refresh your memory if you wish. We have done some research, because we were asked tonight, and have found the name of this volcano. It has the very imaginative name of "Crater Hill" – just about all the other 47 volcanos have Maori names but not the one on Self's Farm.

There was a warning posted on the boards at the start warning that the lake was up and that the edge wasn't as mapped. Do you know why the lake was up? It wasn't so high when the map was made and first used (for the Auckland Relay championships) in 1994. The problem is that you haven't been drinking enough beer or perhaps you have changed allegiances. Whatever the reason, DB now does not use this water for their beer. Our information source from inside the company tells us that they haven't forgotten this water source so if you drink up the water level may go down and then we can put controls on the land that is now islands.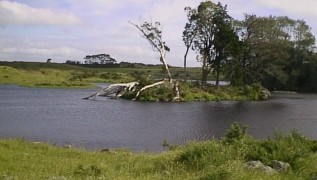 A new innovation for the Summer Series occurred today – we brought a step ladder along and placed it at one of the styles where it was hard to avoid the electric fence. We hope that those who went to the crossing found it useful.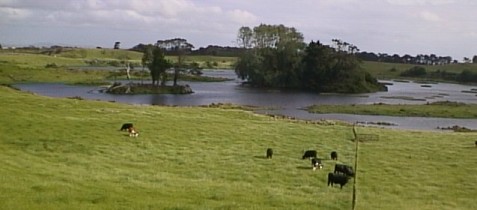 Next week the event starts on Mt Hobson. This area will be new to many orienteers as we have never started here before and you will have only orienteered here before if you have run one of the longer courses. The start area is on Dilworth Ave, just off Remuera Rd just a little distance out of Newmarket. This is again a Thursday event, the last for 2001. We must put the banner up on the hill so it can be seen by all the passing motorway traffic - a great place to advertise our sport. While researching the name of the Self's Farm volcano we found the following about Mt Hobson (Ohinerau). Sir John Logan Campbell was very excited about the view from the top saying that it even surpassed the view from the Acropolis in the ornate Greek city of Corinth.

Joanna and I will not be hosting you at this event as we are away in Christchurch at a conference. However we'll be thinking of you and hope you all have a most enjoyable evening. We hope to get the results to you using the magic of the internet but there will be difficulties and so they may not be as quick as we usually manage. However they will come eventually.


Course 1 6.0 kms

   1 Dave Crofts               0:41:51                    
   2 Guy Cory-Wright           0:45:56                    
   3 Jeff Greenwood            0:45:56                    
   4 Adrian Skinner            0:46:07                    
   5 Andrew Bell               0:48:31                    
   6 Rudy Hlawatsch            0:49:04                    
   7 Mike Beveridge            0:50:44                    
   8 Natalie Rouse             0:52:20                    
   9 Ian Sydenham              0:54:09                    
  10 Melissa Edwards           0:55:16                    
  11 Craig White               0:57:50                    
  12 Tony Cooper               0:57:58                    
  13 Martin Barber             0:59:52                    
  14 Craig Pearce              1:00:18                    
  15 Adam Johnston             1:10:18                    
  16 Malcolm Gawn              1:10:18                    

Up to the Top

   1 Jamie Munro               0:40:48                    
   2 Richard Kestle            0:40:56                    
   3 Mark Roberts              0:42:27                    
   4 Rob Ambler                0:43:00                    
   5 Monika Faessler           0:44:34                    
   6 Anon                      0:45:00                    
   7 V Smirnov                 0:45:42                    
   8 John and Suzanne          0:49:00                    
   9 Jane Adams                0:50:26                    
  10 Kate Mackay               0:50:34                    
  11 Sarah Painter             0:51:54                    
  12 Brian Johnston            0:51:58                    
  13 Keith Adams               0:52:20                    
  14 David Burton              0:52:30                    
  15 John Mackay               0:52:32                    
  16 C Bolt                    0:53:27                    
  17 Russell Howard            0:55:10                    
  18 Bert Chapman              0:55:27                    
  19 Arven Vant                0:57:10                    
  20 P & R Wakeman             0:57:34                    
  21 Mary Wadsworth            0:58:05                    
  22 Nic Oram                  0:59:11                    
  23 Marijke Currie            1:00:00                    
  24 Mervyn Paitry             1:05:55                    
  25 Andy Barrett              1:06:28                    
  26 Blair                     1:06:28                    
  27 Cameron Ross              1:06:28                    
  28 Alison Comer              1:08:50                    
  29 Melvina Wise              1:11:30                    
  30 Mark Little               1:13:00                    
  31 Frank Haimura             1:13:00                    

Up to the Top

   1 Paul Rowe                 0:26:43                    
   2 Mac Crozier               0:27:50                    
   3 Steve Fotherby            0:32:15                    
   4 Pickles                   0:37:52                    
   5 Paul & Michelle Kemp      0:37:58                    
   6 Pete & Ali                0:39:55                    
   7 Hamilton Family           0:40:28                    
   8 Rae Fern                  0:41:37                    
   9 R & L Hawkes              0:41:57                    
  10 Rosie Hewlett             0:46:25                    
  11 Karyn & Trevor            0:46:32                    
  12 Andrew Bright             0:50:00                    
  13 Smirnova Kate             0:50:05                    
  14 Smirnova Iryna            0:50:39                    
  15 Smirnova Alina            0:51:27                    
  16 Catherine Price           0:51:29                    
  17 A Charlton                0:54:00                    
  18 Sandy McGivern            0:54:01                    
  19 Gay Ambler                1:01:00                    
  20 Marion Naish              1:02:13                    
  21 Chris Taylor              1:02:13                    
  22 Graham Brown              1:04:05                    
  23 Pete Evans & Tine Haas    1:04:20                    
  24 Tom Williams              1:28:00                    

Up to the Top

   1 Gene Beveridge            0:36:32                    
   2 Q Ball                    0:41:00                    
   3 Thomas                    0:50:46                    
   4 Sarah Thomas              0:52:00                    
   5 Nikita Mahe               0:52:00                    
   6 Dave Evans                0:57:03                    
   7 Ben Evans                 0:57:12                    
   8 Matt Evans                0:57:12                    

Up to the Top

   1= Mark Lawson               0:14:35                    
   1= David Stewart             0:14:35                    
   3  Neil Kerrison             0:15:24                    
   4  Stuart Lynch              0:15:41                    
   5  Tim Renton                0:16:58                    

Up to the Top